WE TAKE THE STRESS OUT OF MANAGING A VILLA,
SO YOU CAN ENJOY THE BENEFITS OF OWNING A PROPERTY IN BALI.
ONE STOP SOLUTION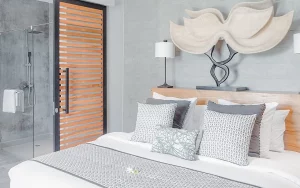 MAINTENANCE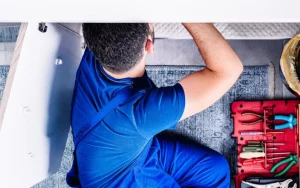 STAFF MANAGEMENT
---
ONE STOP SOLUTION
From welcoming guests to paying your taxes
From warmly welcoming your guests upon arrival to managing your tax obligations, our dedicated team handles every aspect of day-to-day villa operations.
Detailed performance reports and analysis
Stay informed with our comprehensive reporting and analysis services. We provide regular updates on your villa's performance, including occupancy rates, revenue generated, and expenses incurred.
Sit back and relax
Experience the true joy of villa ownership without the hassle of managing it yourself. We ensure the seamless and efficient operation of your villa, so you can sit back, relax, and enjoy the rewards of ownership.
MAINTENANCE
Preventive maintenance plan
We will craft a tailored preventive maintenance plan suited to your villa's requirements. This proactive approach saves you money in the long run, as we identify and address potential issues early on. Your villa will stay in optimal condition while your investment remains protected.
Regular maintenance check
Our maintenance team conducts regular checks on your villa to ensure that everything is functioning correctly. These checks are essential in identifying potential issues and addressing them before they become major problems.
Preventive investment to maintain the asset value
Preserving the value of your villa is our top priority. By continuously enhancing and safeguarding its condition, we ensure that your villa retains its asset value and stands the test of time, allowing you to enjoy the long-term benefits of your investment.
STAFF MANAGEMENT
A great pool of talent
At the heart of our operation lies an exceptional team of dedicated individuals, meticulously chosen for their talent, passion, and unwavering commitment to delivering outstanding service to every guest. Each member of our staff undergoes a rigorous selection process and comprehensive training to meet our quality standards.
Leadership with 30+ years of experience in Indonesia
Guiding our operations with a wealth of experience in the Indonesian hospitality industry, our leadership team brings unparalleled knowledge and expertise to the table. Their seasoned guidance and mentorship empower our staff to consistently elevate their skills and deliver exceptional service.
Service excellence and people development
We firmly believe that investing in our people is the key to delivering exceptional guest experiences. Through continuous training and development opportunities, we empower our staff to continually enhance their skills and expertise.
WHAT MAKES US DIFFERENT?
We Know
With our knowledge of the local market and years of experience in the industry, we can provide you with unparalleled guidance and support.
We Care
We are passionate about serving guests and creating memorable experiences. As villa owners ourselves, we understand the unique challenges that come with managing a property in Bali.
We Structure
We leverage cutting-edge tools and industry-leading processes to optimize the management of your villa and improve its profitability and overall value.